Victron Training in a cabinet ESS / Off Grid / 3Phase
Super cool set up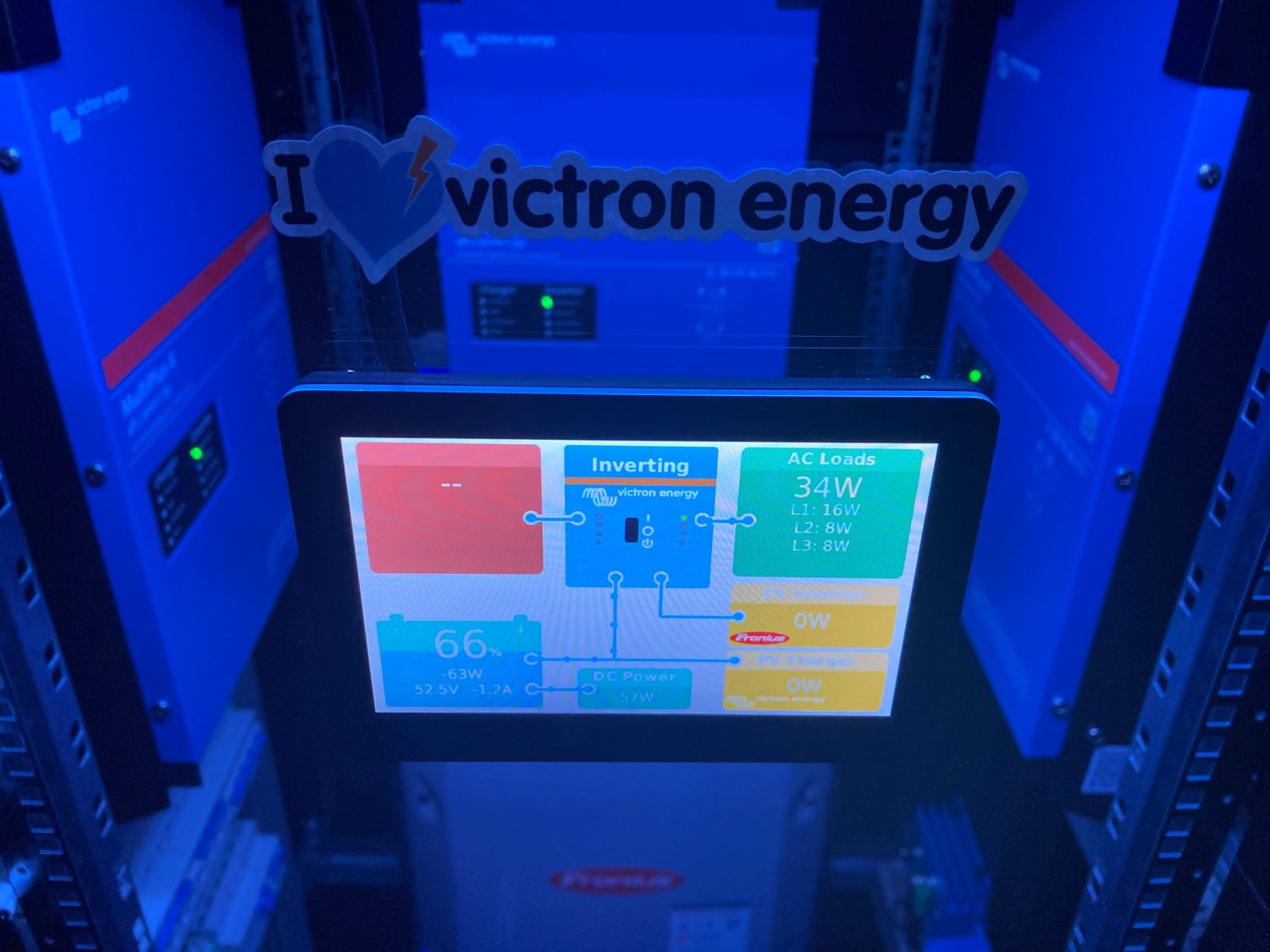 Victron Ambassador Markus Pauritsch has come up with a neat and portable way to carry out Victron training for 3-Phase ESS and Off-Grid systems.
He's built a stylish, fully operational cabinet for training sessions in his native Austria – beginning as soon as health restrictions allow.
Markus' 3Phase cabinet and Dr. Who's Tardis share a common feature – they both pack a lot of futuristic technology into a small space. The cabinet looks so exciting – with its imaginative lighting, fronted by a GX Touch 50 on the glass door – that delegates will be itching to find out what's happening inside!
So what is happening on the inside?
Packed into the case there's a 9000VA 3-phase ESS system including 10kW/h battery storage:
The fully functioning cabinet is designed to work like this: 5.1kWp solar modules feed both the Fronius Inverter and the SmartSolar MPPT. Four AC powered fans mounted in the cabinet-roof provide ventilation and control internal temperature. Excess PV power can be used for water heating using 48V DC immersion heaters. The 48V-100A Smart BatteryProtect will turn the water heating elements on/off, so there's no risk of melting relay contacts.
The cabinet is fitted with RGB LED downlighting. A Wi-Fi enabled controller operates the LED strips – and a neat enhancement is that it is possible to change lighting colours according to system conditions (State of Charge; warnings and alarms, etc.) via Node-RED.
Markus Pauritsch became a Victron Ambassador a year ago. His enthusiasm for our products was spotted through his regular contributions to our Community pages – offering advice to others and showing great technical competence. As an ambassador he visits potential customers; trains installers on the job; he has supported Leo Yntema – Victron Sales Manager for Austria, Switzerland, Belgium and Luxembourg – with training carried out at the Fronius HQ; and he commissions systems for distributors.
His extensive IT experience allows him to take on higher-level Modbus questions; and later this year, he will work with Leo conducting advanced training courses with this purpose-built cabinet in Austria and Switzerland.
This second-level training will be offered to distributors and installers who already possess some knowledge of AC- and or DC-coupled solar systems – allowing them to become more familiar with the set-up and configuration of such systems. The default setup of the 3-Phase AC and DC coupled cabinet is as an ESS, but it can easily reconfigured to an Off-Grid system.
The planned training includes sessions on: Power Calculation; System configuration; Tips and tricks regarding cable calculations; and Troubleshooting, etc.
When not in use for training, Markus employs the cabinet installation in his own house!
This ESS system cabinet is already built and operational, and will be available for Victron training as soon as the lifting of current health restrictions allows.
If you live or work in Austria or Switzerland and you think you can benefit from this kind of training, keep an eye on our Training page – it is here you will find details of all face-to-face and webinar training as soon as it becomes available.
By Justin Tyers
Get in touch to discuss your requirements