The world's first comfortable lifeboat?
Having bought a lifeboat and converted it to a houseboat, Guylee Simmonds and David Schnabel were ready to leave Newhaven on the South Coast of England. At this point most people would head south, but as noted in an earlier report they chose to sail north …to a point 350km north of the arctic circle, in Tromsø, Norway, where they have now arrived safely.
Arctic Circle recap
Within the Arctic Circle, in midsummer, the sun is visible twenty fours hours a day. In midwinter it isn't seen at all.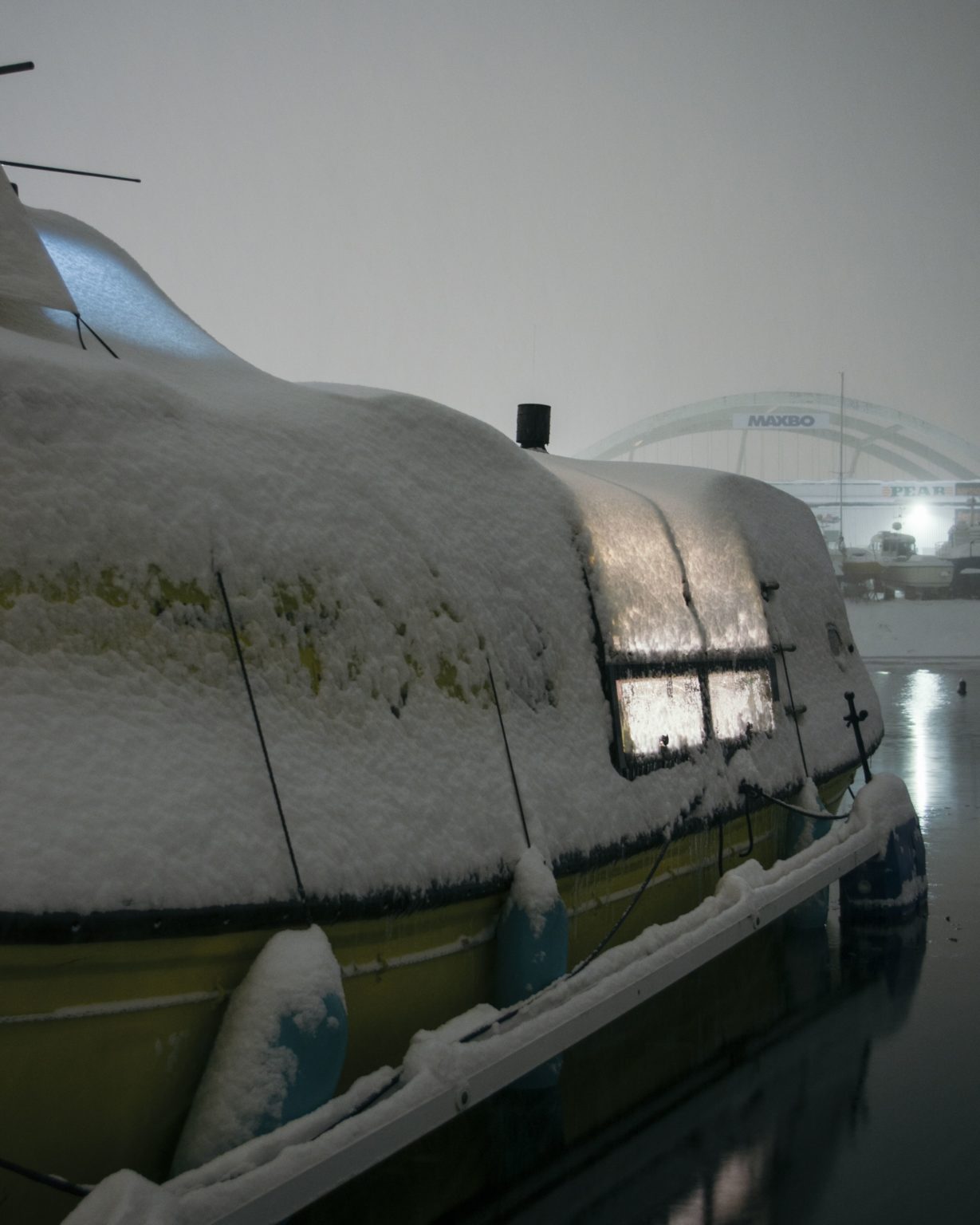 Why did the adventurers decide to travel so far north, and are they planning to stay?
Both Guylee and David are keen skiers. They're outdoorsy types who enjoy hiking and camping in the wilderness.  And Tromsø is a lively city of 70,000 people – a tourist destination for people who wish to see the Northern Lights; it's a student city where there is a great sense of community. Guylee and David are both Architects; Guylee has found himself a job in an architectural practise in Tromsø. So it looks like Tromsø will be home for a while.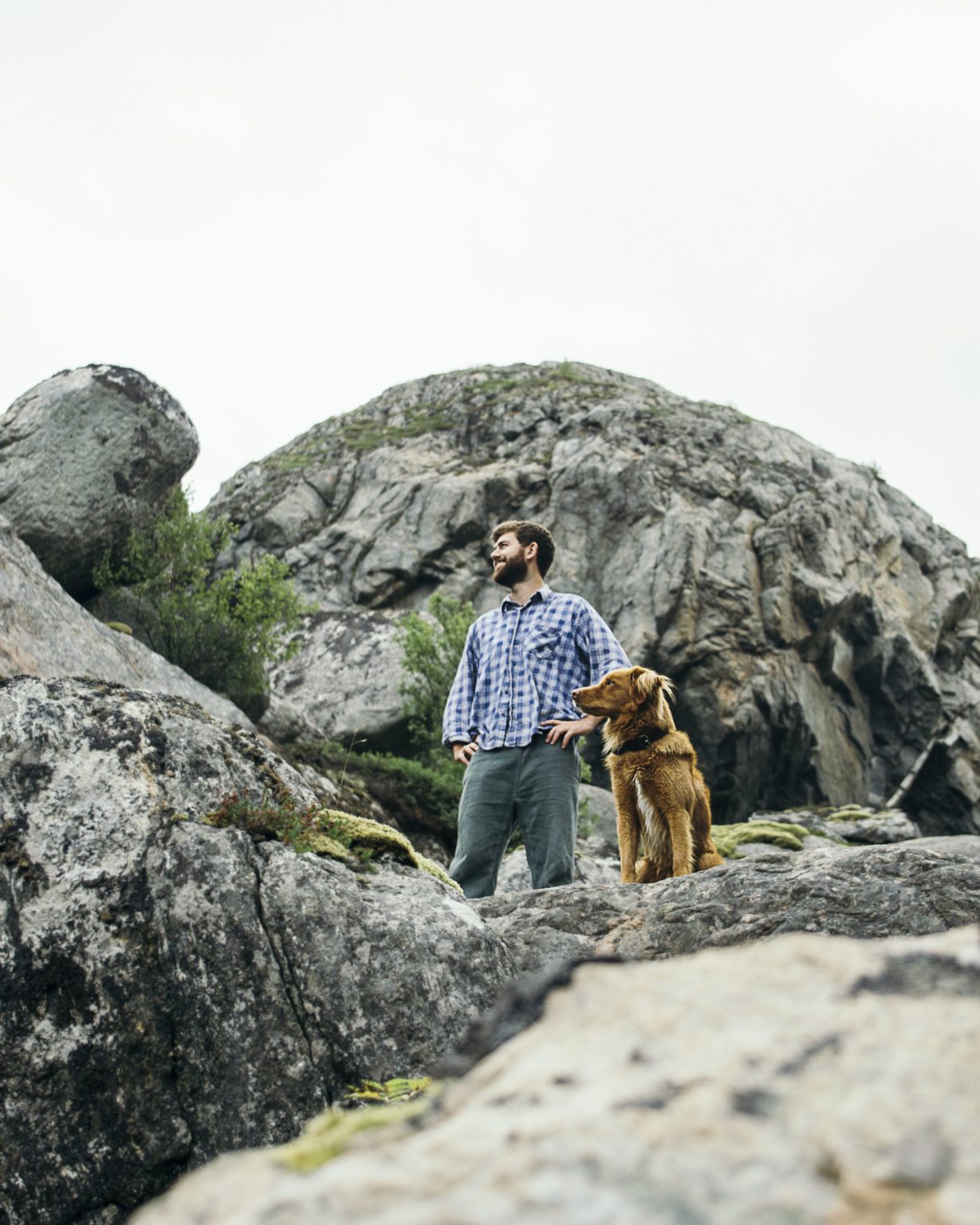 They only set off last summer, but it's already been a life changing experience. Living aboard a boat all year round, in the arctic, may not sound like everyone's cup of tea – yet on board they enjoy all the comforts of home. It's roomy, well fitted-out, it has a wood burning stove. They have AC and DC electricity so they can work and play whether off-grid, or connected to shore power. Guylee has produced a video which talks through his electrical installation:
Here's a list of the Victron Energy equipment fitted:
1 x Color Control GX
1 x Battery Monitor BMV-700
3 x 1 x 12V/230Ah AGM Super Cycle Battery (House)
1 x 12V/165Ah AGM Deep Cycle Battery (Starter)
1 x EasyPlus Compact 12/1600/70-16 Inverter/Charger
1 x SmartSolar MPPT 150/60-Tr Solar Charger
1 x 25A Buck-Boost DC converter
They're very satisfied with the performance of their electrical system having lived with it summer and winter alike. The only change they would make, now they are so far north, would to install a more powerful wind generator than the 70W model they have. Also, in addition to the lack of sunlight during the winter, there is often a covering of snow on the solar panels so they don't produce energy at all.
Under way electricity is produced from an alternator attached to their engine which is a 30 hp Lister 3 cylinder diesel. The voltage from the alternator is stabilised by a Buck Boost converter to protect the battery from over-voltage charging.
The engine was already installed on the lifeboat which they purchased from the Scottish ferry operator Caledonian Macbrayne for £7,000. The main and auxiliary fuel tank give them a range of 500nm. The engine has proved very reliable except for some recurrent fuel problems – which they attribute to the reduction in temperature as they prosecuted their voyage. And on another occasion a nut came loose which they had to fish out from behind the bell housing. Yacht owners – whose primary propulsion comes from their sails, and for whom an engine is auxiliary – marvel at intrepid nature of Guylee and David who rely on a functioning engine for safety, and to make their progress.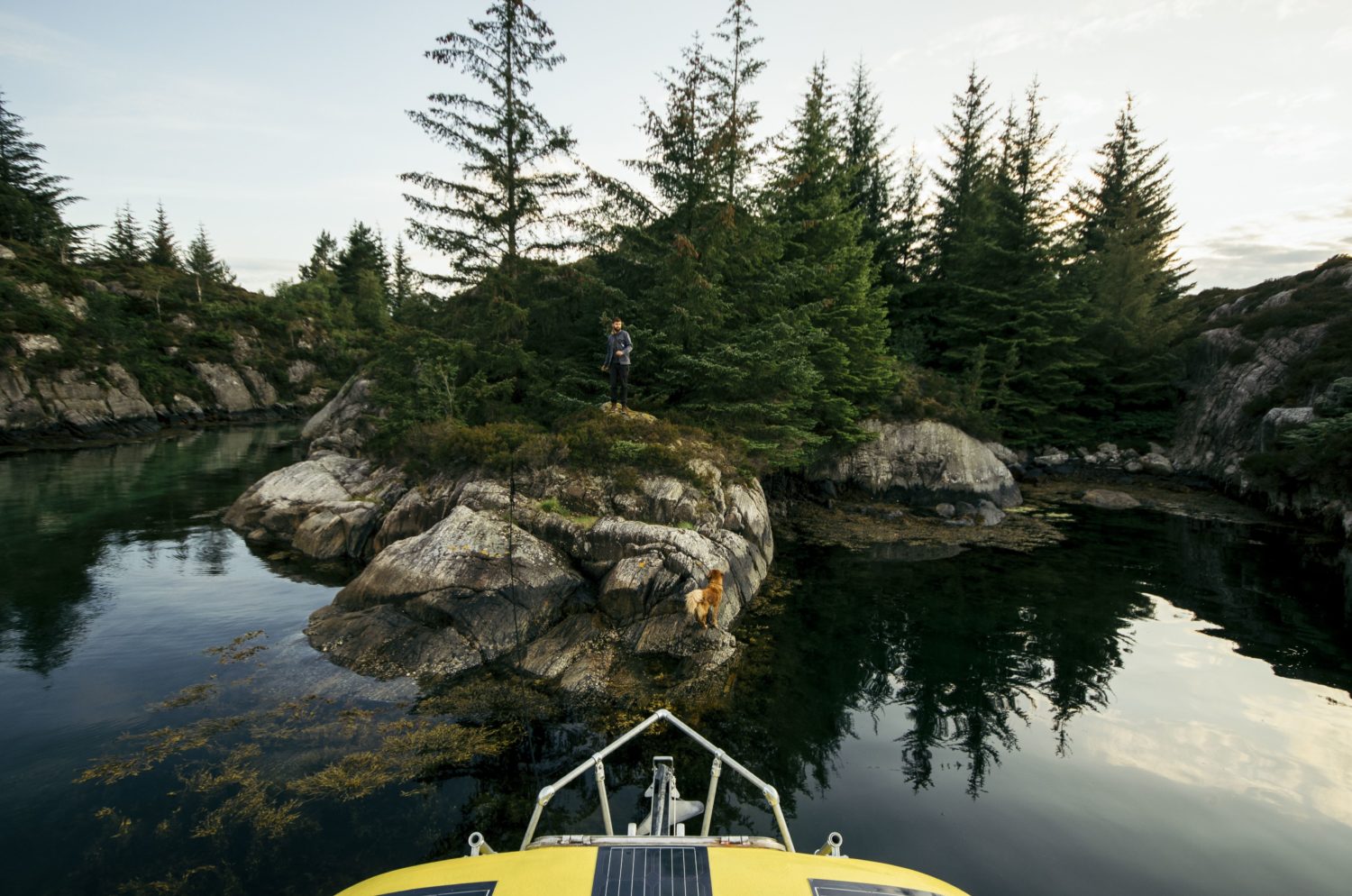 At the time of purchase the lifeboat was painted orange, of course. Anticipating the circumstance where their newly-purposed vessel might be mistaken for a vessel in distress, they painted it yellow. That choice of colour didn't entirely mitigate the problem – as they discovered whilst sailing off the coast of Denmark. Overhearing a VHF radio call between another vessel and the Danish Maritime Authority they realised that it was they who were being reported as 'a lifeboat drifting aimlessly' off the coast, and were compelled to report themselves 'all well'. They found the description 'drifting aimlessly' quite a hurtful as they happened to be maintaining a steady course and speed at the time.
Seas of three or four metres are more than rough enough aboard Stødig. In those conditions, to control excessive rolling, their vessel has to be brought head-to-wind …but with a 30HP engine and minimal keel it's challenging to maintain that attitude. After a rough passage they were always relieved to make their destination.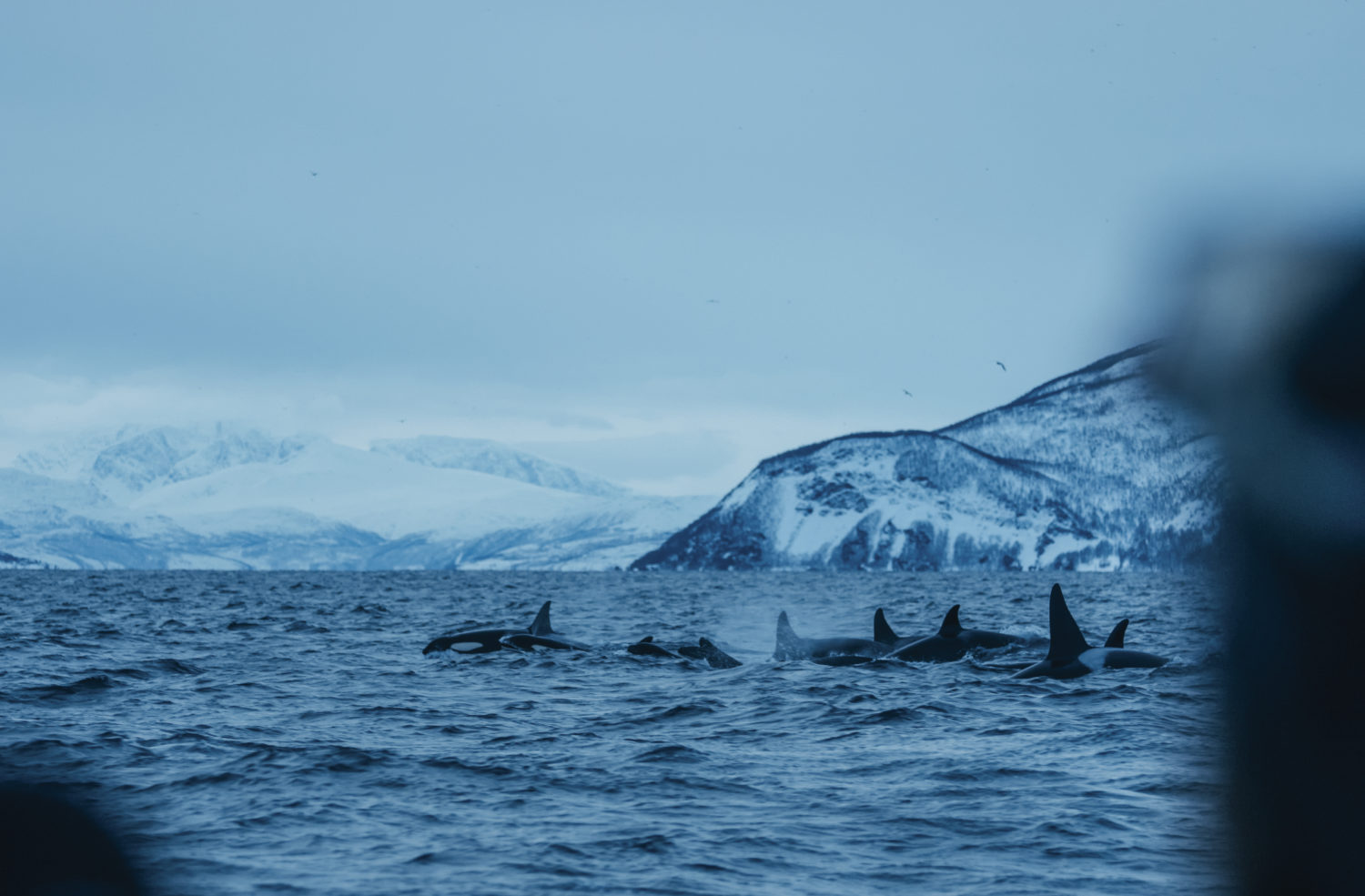 Looking back, both Guylee and David agree that it was the slow nature of their travel which they found most valuable. A time to reflect and live life in the slow lane. The Norwegian coast is breathtaking with thousands of islands and archipelagoes – deep fjords and steep mountains whose sides fall straight into the water. It was interesting to observe how both the wildlife and the scenery change between the start and the end of the voyage. As they travelled they watched the summer peter-out. Pleasure craft declined in number, before disappearing altogether – eagles and whales took their place.
It was the isolated communities who were most welcoming, yet even in marinas "…where our life is visible because of the boat's glass section – says Guylee – no one takes us too seriously, which makes us approachable, so it's easier to meet people.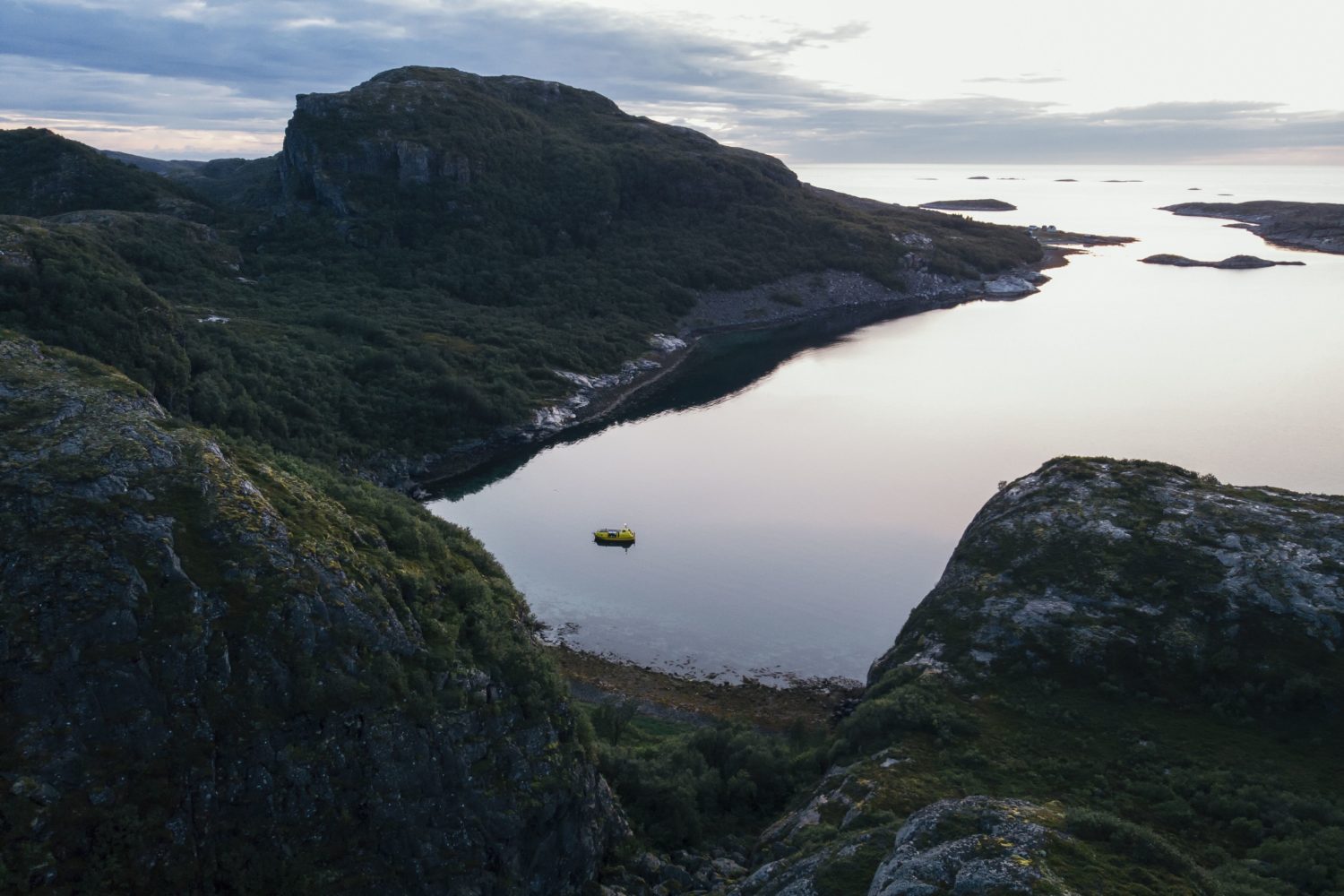 David recalls a favourite part of the trip which occurred fairly early on in their voyage: Anchored in a lonely bay they climbed a hill to look back on their little yellow boat – and the enormity of what they had taken on it struck him for the first time. Another came later when they were at anchor with a glass of whisky, and saw the northern lights.
Their adventure is open ended. They are undecided if or when they will move on. They may stay and sell the boat to new adventurers. But for them life is a journey, and you never know what lies around the next headland.
A recent interview is available on podcast.
Follow them on Facebook.
By justin
Apr 28, 2020